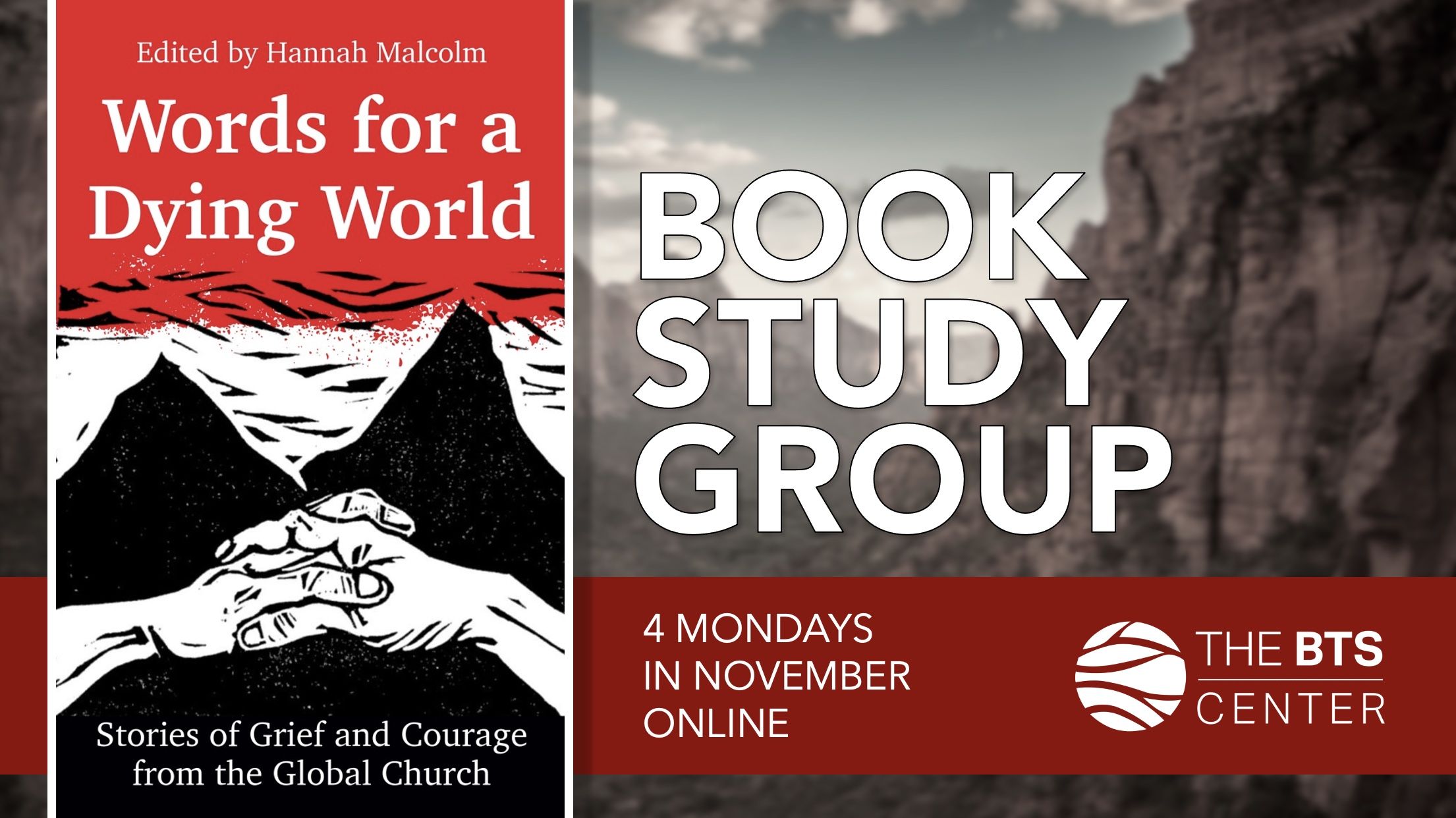 Words for a Dying World: Book Study Group
Four Mondays in November • 12:45-2:00 pm (Eastern) 
• 
Online via Zoom
$30/person covers all four sessions 
* In order to make this program accessible to all, we are offering an unlimited number of full scholarships.  If this would be helpful to you, please select the $0 payment option.
---
"...if grief is an expression of love, our grief takes on the shape of the places and creatures to whom we intimately belong. We mourn the death of the world because it is where we come from." – Hannah Malcolm
This November, we invite you to join a reading group using the collection of essays Words for a Dying World: Stories of Grief and Courage from the Global Church, edited by Hannah Malcolm. As part of the BTS Center's season of programming around ecological grief, we will gather to share responses and conversation around the text as well as ritual and grounding for our grief. 

Over the course of four weekly sessions, we will read and discuss select essays from the book as a way of understanding ecological grief as both local and global, particular and universal. The program is oriented toward spiritual leaders* who are experiencing their own grief and may be seeking resources for their communities. 
We hope to offer a theologically grounded space in which to deeply engage with the spiritual impact of the climate crisis as well as a place in which to begin to name our losses and understand the ways in which we are carrying our grief.
*We define "spiritual leaders" broadly to include not only clergy and other faith leaders, but also dedicated laypersons, nonprofit leaders, chaplains, spiritual directors, students, university and seminary faculty, denominational executives, and others with a committed and world-engaging spiritual practice.
---
Dates
All sessions are at 12:45-2:00 pm (Eastern) • hosted on Zoom
Monday, November 1, 2021
Monday, November 8, 2021
Monday, November 15, 202
Monday, November 22, 2021
---
Book purchasing
Order from Print: A Bookstore here.
Order for your Kindle (or other e-reader) here.
Order from the publisher here.
Book scholarships are available as needed. 
Contact Kay Ahmed at kay@thebtscenter.org to request a book.
---
About the book
Words for a Dying World: Stories of Grief and Courage from the Global Church
How do we talk about climate grief in the church? And when we have found the words, what do we do with that grief?
There is a sudden and dramatic rise in people experiencing a profound sense of anxiety in the face of our dying planet, and a consequent need for churches to be better resourced pastorally and theologically to deal with this threat.
Words for a Dying World brings together voices from across the world - from the Pacific islands to the pipelines of Canada, from farming communities in Namibia to activism in the UK.