Aram Mitchell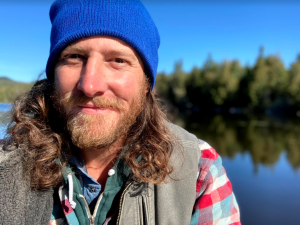 Aram Mitchell is a Registered Maine Guide and Wilderness First Responder with a Master of Arts degree in Religious Studies from Chicago Theological Seminary. He lives on a little plot of land in Maine with his spouse, two dogs, a cat, and several chickens.
Aram moved to Maine in 2015 to serve as the Executive Director of Renewal in the Wilderness, where he worked for five years planning and facilitating programs designed to help sustain the vocations of care providers, justice workers, and faith leaders. Through his work for Renewal in the Wilderness, Aram connected with The BTS Center in 2016 and has collaborated on a variety of programs since then.
Prior to his move to Maine, Aram served as the Congregational Minister for Children (and the child-like) at Claremont United Church of Christ. During his time at Chicago Theological Seminary he worked as a youth advocate and coordinator of The Crib, an emergency overnight shelter for LGBTQ identified youth experiencing homelessness. He was born in New Brunswick, Canada near the Saint John River. He grew up near the White River in Indianapolis, Indiana. And now walks his dogs most days along the Presumpscot River in Falmouth, Maine.