Being and Doing: Spiritual Practice and Activism
Many of us seek a spiritual path as a respite from trauma and turmoil. And, when we finally arrive at a sense of tranquility we cherish it deeply, because it has been so hard won! As a result of our spiritual practice, we also experience the myriad manifestations of the divine — a sense of connection, love, and compassion for all beings. But for many of us a tension remains. Since many spiritual traditions exhort us to renounce the world and turn to our inner lives as a way to transcend, we don't quite know how to integrate these two aspects of our spiritual lives. How can we stay connected to the vastness of universal love as it manifests in our being and try to actualize love and compassion in the world by enacting social justice?  Often, when we engage outwardly, things turn messy! This might send us scuttling back to our sanctuary of peace. Beating such a retreat can foster despair with ourselves and the complexities of our world. In this workshop, Dr. Vaishali Mamgain will work with this edge — the non-doing and the engagement! Participants will journal, draw, and do somatic work to get more familiar with this tension, to experience how this trajectory plays out in their life, and learn how to sustain themselves in this ongoing dialectic toward a more complete integration. 
---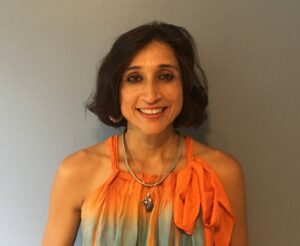 Meet the Facilitator:
Vaishali Mamgain is an Associate Professor of Economics and the Director of the Bertha Crosley Ball Center for Compassion at the University of Southern Maine. She received her PhD in Economics from the University of North Carolina at Chapel Hill; her past research focused on the contributions of (im)migrants and refugees in the Maine economy; her current research is in contemplative pedagogy. A leader in the field of contemplative education, she also facilitates compassion training and anti-oppression workshops for corporate and nonprofit organizations in the US and abroad, specializing in somatic and immersive nature training to undo (internalized) oppression, and help vision different, more equitable, loving societies. She has been faculty and is on the Board of the Courage of Care Coalition where she helps design and deliver trauma informed courses to support folx engaged in social justice. A working contemplative, she has meditated, wandered and 'retreat'ed for many years. In 2017, she completed a three-year meditation retreat at Samten Ling Retreat Center in Crestone, Colorado and now lives on an island in Maine where she enjoys swimming in the sea, admiring seaweed, running, hiking, singing, and cooking.