Saarah Y. Latif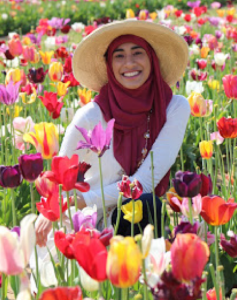 Saarah Yasmin Latif serves on the Interfaith Coordinator Team of NIA Masjid & Community Center in Newark, NJ.
As a Muslim, she believes that we are placed on earth to take care of each other and the environment. In the Holy Qur'an, God states, "Recall when your Creator and Sustainer said to the Angels: I shall indeed place on earth a trustee" (Qur'an, 2:30). She takes much inspiration from her faith and believes that nature should be used to better know, serve, and worship God.
Saarah is passionate about interfaith dialogue and environmental education, and she expresses these commitments by organizing workshops for her local community focused on ways to limit single use plastic, and to support composting and gardening. She is a part of the GreenFaith Fellowship Program, an interfaith coalition of global members working towards bettering the environment, and she recently completed a five-month internship at Sprout by Design, an organization in New York City focused on urban farming education and design. She has a Master's degree in Sustainability and Leadership from Montclair State University.
Instagram: @saarahlatif