Rev. Nicole Diroff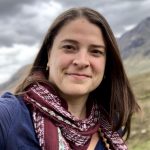 Rev. Nicole Diroff is ordained in the United Church of Christ and lives with her family in Scarborough, Maine.  Prior to her work with The BTS Center, she served as the Associate Director at Interfaith Philadelphia where she coordinated the Religious Leaders Council of Greater Philadelphia and directed the creation and expansion of the organization's many Dare to Understand initiatives.  She also led the organization through both strategic planning and evaluation / impact tracking processes.
In 2019 Nicole received the United Church of Christ Divine Pathways Interreligious Achievement Award. She has served as a keynote speaker, guest lecturer, preacher or workshop leader at the Parliament of the World's Religions, the Southeastern Pennsylvania Consortium for Higher Education Diversity Conference, and the Messiah College Human Rights Chapel Series. She has also offered leadership as a member of the Please Touch Museum's Community Advisory Group for their America to Zanzibar Exhibit on Islam and represented the United Church of Christ as one of the Co-Conveners for the National Council of Churches / National Council of Synagogues Dialogue.
She is a graduate of the Lutheran Theological Seminary at Philadelphia and Ohio Wesleyan University.  When she's not leading programs for religious leaders or building grassroots relationships, she can be found exploring tide pools with her 6-year-old, hiking with her dogs, or reading a memoir at a local coffee shop.
To connect with Nicole via email:  nicole@thebtscenter.org