Rev. Mariama White-Hammond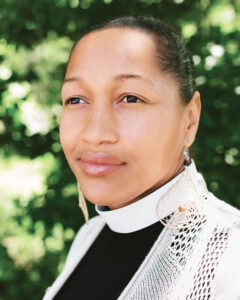 Rev. Mariama White-Hammond is a pastor, advocate, facilitator, and farmer whose work spans issues and sectors as she seeks to create a more just and sustainable world.
She was recently appointed Chief of Energy, Environment and Open Spaces for the City of Boston under Mayor Kim Janey. In that role she oversees everything from Archeology to Animal Control. In particular, she is focused on what Boston can do to combat climate change, reduce environmental inequities and protect Boston's urban ecosystem for everyone to enjoy. She is the founding pastor of New Roots AME Church, a multi-racial, multi-class community that is innovating new ways of doing church.
Rev. Mariama uses an intersectional lens in her ecological work, challenging folks to see the connections between immigration and climate change or the relationship between energy policy and economic justice. She was a fellow with the Green Justice Coalition, which brings together eight social/environmental justice groups from around Massachusetts. She is the chair of the New England Grassroots Environmental Fund and the co-chair of RENEW New England.
She was the Executive Director of Project HIP-HOP, a youth arts organization, focused on teaching the history of the Civil Rights Movement and engaging a new generation of young people in activism. She has spoken and preached throughout the country and was the MC for the 2017 Boston Women's March and the 2018 Boston People's Climate Mobilization. She has a company, Change Agency, with her husband, Turahn Dorsey, that encompasses her public speaking, writing and consulting work with organizations committed to deepening their social
justice work.
Rev. Mariama has received numerous awards including the Barr Fellowship, the Celtics Heroes Among Us, The Roxbury Founders Day Award, and the Boston NAACP Image award. She was selected as one of the Grist 50 Fixers for 2019, Sojourners' 11 Women Shaping the Church, and Get Konnected!'s Boston's Most Impactful Black Women 2021.