Rev. Effie E. McAvoy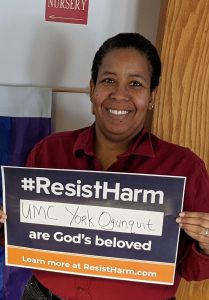 Rev. Effie E. McAvoy was ordained a Deacon in June of 1997 and an elder in full connection of the Western North Carolina Annual Conference of the United Methodist Church in June of 1999. After serving churches in North Carolina for 13 years, she moved to Oakland, Maine where she served Oakland-Sidney UMC for 7 years and was transferred in as an Elder in Full Connection to the New England Annual Conference. She earned her BA degree in Interdisciplinary Studies with a concentration in Women's Studies from Appalachian State University in 1994 and her MDiv from Boston University in 1997.
Currently Rev. McAvoy serves as the chair of the New England Conference of the United Methodist Church (NEAC UMC) Commission on Religion and Race (CoRR). The role of CoRR in every level of the UMC is to educate the body on issues of race, racism, implicit bias, eurocentrism, and xenophobia. In its mission, CoRR is also called to speak truth to power and hold leaders to accountability in regards to issues of race, culture, and ethnicity.
In addition to her role as chair of NEAC CoRR, she also is a member of the Connectional Table of NEAC which oversees the work of program ministries within the New England Annual Conference.
Reverend McAvoy has received certificates from Duke Divinity Preaching Institute, Disciple Bible Study, and the Maine Criminal Justice Academy in police chaplaincy.
In 2017 she was reassigned to the UMC York Ogunquit where she serves as pastor and is the chaplain for the York police department.