Rabbi Michael Knopf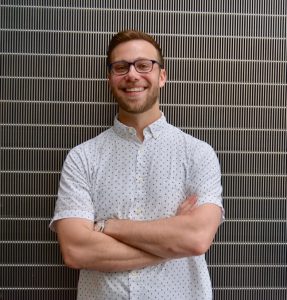 Named one of "America's Most Inspiring Rabbis" by 
The Forward
,
Rabbi Michael Rose Knopf
is the spiritual leader of Temple Beth-El in Richmond, Virginia, one of the region's oldest and largest Jewish congregations. Rabbi Knopf is recognized as a leader within and outside the Jewish community. Named one of Richmond's "40 Under 40" in 2017, he was invited by Governor Ralph Northam to offer the benediction at his inauguration and to preside over the first-ever interfaith Passover Seder at Virginia's Executive Mansion. He is a co-founder of Richmond Jews for Justice, a member of Leadership Metro Richmond, serves on the Boards of Virginia Interfaith Center for Public Policy and the Jewish Community Federation of Richmond, and helps to lead several local interfaith groups.
Rabbi Knopf is the author of Thirty Days of Liberation: Pathways for Personal and Social Transformation Inspired by the Book of Exodus, and has also been published in several anthologies of contemporary Jewish thought. He is a regular contributor to numerous regional, national, and international publications; and hosts the PopTorah podcast on the JCast Network. He is an American Jewish World Service Global Justice Fellow and an alumnus of both Rabbis Without Borders and the Clergy Leadership Incubator. He is a member of the Rabbinical Assembly (serving on the Social Justice Commission) and T'ruah: The Rabbinic Call for Human Rights; and serves on the Rabbinic Advisory Councils of Hand in Hand Schools in Israel and the Masorti Foundation for Conservative Judaism in Israel.
Rabbi Knopf previously served as Assistant Rabbi of Har Zion Temple in Penn Valley, PA. Before his ordination from the Ziegler School of Rabbinic Studies in 2011, Rabbi Knopf helped coordinate the Miller Introduction to Judaism Program, the nation's largest preparatory program for conversion to Judaism, worked as a spiritual counselor at Beit T'Shuvah, a Jewish addiction treatment facility, and served several congregations and educational institutions in the U.S. and Canada.
Rabbi Knopf lives in Richmond's Museum District with his wife and three children. Originally from Atlanta, Georgia, he holds degrees from Columbia University, the Jewish Theological Seminary of America, and the American Jewish University. He's a pop culture buff, a political junkie, and enjoys movies, traveling, and pizza.