When I set out to do research for what became a book, Our Lady of Everyday Life, on the devotion to Our Lady of Guadalupe, or "La Virgen," as Mexican Catholics including those that have left the church refer to her, I knew little of the kind of journey I was about to undertake. My initial goal was to learn more about the devotion to La Virgen among Mexican-origin women living in the United States.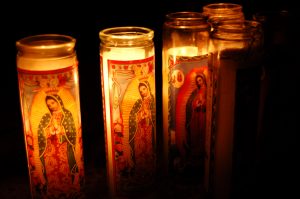 The connection between Catholic Mexicans and La Virgen is distinct from the relationship of whites with the Virgin Mary. Even those that have left the Catholic Church continue to feel a sense of connection to her. Early in childhood, Catholic Mexicans learn to see La Virgen as our holy mother, and yet she also shares equal status with our earthly mother. We turn to her in times of distress, we talk to her, and we ask her for guidance. We carry her in a prayer card, medallion, or keychain. I, like most Catholic Mexicans, cannot pinpoint when I first learned about La Virgen. In many ways, she is part of our genealogy.
In the U.S. and Mexico, Catholic Mexican parents introduce their children to La Virgen through popular Catholic practices. For example, the traditional mañanitas (morning serenade) with mariachis at the local church, home altars, processions, and theatrical reenactments of the apparition story. One popular practice is dressing children in traditional indigenous clothing on her feast day. Doing so is a way of honoring our indigenous roots. These roots connect us all to our indigenous Mexican heritage and to Saint Juan Diego, the indigenous man who witnessed the apparitions of La Virgen on the hill of Tepeyac.
I was well aware of this religious history, both in my own family background and in the theological literature. However, given my limited life experience at that young age, coupled with the lack of previous social science research on the devotion to La Virgen among women, I had no idea what to expect I might find when I talked with Mexican women about the role of La Virgen in their actual, everyday lives. I wanted to know more about their devotion to her in the trials and tribulations of their lives. It only took my first interview to experience an unforeseen entrance into the spaces in which devotion to La Virgen is the fertilizer that nourishes and sustains life amid real suffering.
Candelaria, the first woman I interviewed for my study, was born in Mexico and came to the United States with her three children to reunite with her husband. When I first met Candelaria after mass at the local Catholic church, she greeted me with a smile. But her eyes communicated something else, as if there was something in her life too heavy for her soul to carry. I introduced myself and told her about the research I was doing on La Virgen. After we got to know each other more, she invited me to her house for an interview.
On the day of the interview, she welcomed me into her home. We talked about the weather and her children, and she offered me something to drink. She began sharing about her devotion to La Virgen, and showed me the images she had of her throughout the house. Up to this point, the interview process was going just as I expected until I asked her how she met her husband. No seminar on ethnographic methods I took in graduate school prepared me for the deep pain and sorrow she shared with me or for the powerful way La Virgen figured into her life.
She did not marry because she was in love, but because her father gave her hand in marriage to his drinking buddy. From the beginning, their relationship was set to fail. Her husband's drinking habits, physical abuse, and extra-marital affairs were the daily bread of their marriage. The violence and extra-marital affairs continued when they migrated to the United States. However, this would soon change. The first argument she had with her husband in the United States was not only their last one, but it changed the course of their lives. She was five months pregnant.
One day, her husband came home from work, and dinner was not ready. Angry, Candelaria's husband pushed her hard against the wall. His reaction was not unusual; what he did not expect was how she was going to respond. She told her three children to lock themselves in the bedroom and wait for her. She said to herself, "I am not going to be scared anymore . . . I am free here [in this country]."
She prayed and pleaded to La Virgen for courage and physical strength by assuring herself, "She will give me strength, and I will tell him exactly how I feel." She insisted to herself, "The time is now!" Raising her trembling voice she told her husband,
I do not know what is going on with you. I am not the same. I am a different person. I am now in the United States, and I know my rights. I want you to respect me, and if you have something to say, say it with manners.
Shocked because she talked back to him, for the first time, he took off his belt and threatened to hit her. "I ask you in the name of God and La Virgen to change," she said to her husband. She continued,
He told me, "If you do not shut up, I will break your mouth. Then I felt my stomach trembling, and my lower abdomen began to hurt badly." I told him, "Because of you, I could lose my child. I do not feel good. My hands were shaking, my mouth, all of my body. I felt like the world was crumbling down on me."
Enraged, her husband attempted to hit their daughter when suddenly, Candelaria said in a loud voice, "Hay virgensita ayudame, te necesito" (My dear Virgin, help me, I need you). She picked up her husband from the back and threw him on the floor.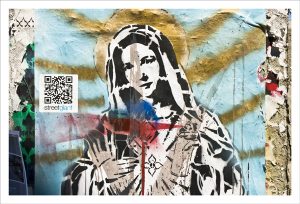 Candelaria is a very petite woman, and to this day, she cannot explain where she got the strength to pick up her 175-pound husband. Some people would credit a rush of maternal adrenaline, but her explanation is that La Virgen gave her the mental and physical strength to confront her husband and put a stop to his verbal and physical abuse. Adrenaline-infused strength surely helped in the moment, as did as the sense of freedom she felt here in the United States. But it was an enduring relationship with La Virgen—a faith in her abiding presence as a mother and a woman, for women—that had deep spiritual meaning for Candelaria. La Virgen was for her a presence of strength and hope that had been nurtured in her Catholic imagination since childhood.
When I first heard her story, I was overwhelmed with mixed emotions. How could so much cruelty be possible? Why didn't she walk away the first time he was abusive with her? Why didn't she call the police? The researcher in me found answers to these questions. However, now looking back, I realize that I did not fully comprehend the situation because it was not my reality. Candelaria and I had different marital experiences. She had been married for many years, and I was a newlywed at the time. She was in a physically abusive relationship, and I was not. Candelaria had children, and I had none yet when we talked. Still, I learned much from her about making brave changes in the most difficult times.
Candelaria's testimony is but one of many stories of faith and resilience that I heard throughout my ethnographic research. I continued collecting stories, sat with them for long hours, read books that dealt with topics related to the life experiences of the women. I spent arduous hours analyzing my data, reading, writing, and rewriting. Finally, after years of work, my book was in production.
The past seven years of my life evaporated right before my eyes, and a sense of complete failure filled by heart.
As a pre-tenure professor at the time, everything was running as I had expected—that is, until I received a letter from the university provost's office informing me that my tenure had been denied. I was devastated. I had made countless sacrifices. I missed many of my daughter's school functions, soccer games, family gatherings, and holidays. For many years, my weekdays started at 6 am and ended at 4 am because I was either reading, writing, teaching, grading, or mentoring. I tried to balance being a mom, wife, and academic. I shed many tears in the process and felt like giving up, but I would tell myself every time, "the sacrifice will soon pay off and then I will be able to scale back a bit."
When I read the one-paragraph letter from the provost, the past seven years of my life evaporated right before my eyes, and a sense of complete failure filled my heart. I now had to find a new job, that was for sure. My life had changed dramatically in a single moment, and would continue to change in more ways I could not anticipate then.
A few months after the tenure denial, my father suffered a severe fall, injuring his back. My husband, daughter, and I moved in with my parents so I could care for my father. I found myself with no job and no home of my own, living again under my parent's roof, more as a devoted daughter than as a scholar, mother, and wife. It was only a matter of time before life took another challenging turn. After almost fifteen years, I ended my marriage.
In the space of only a couple years, my life went from having it all to losing everything, including my faith. I felt as if La Virgen had abandoned me. I went through a period of depression, about which I refused to talk to anyone or seek help. I was a Ph.D., a sociologist by training, and a feminist; I could figure this out on my own, I told myself. One day I hit rock bottom, I was completely broke, with only 30 cents in my checking account. I prayed and pleaded to La Virgen to help me get out of this sense of emptiness. Like Candelaria, I felt as if the world was crumbling down on me. Crying, on one hand I held a bottle of anti-depressants my doctor had prescribed but I refused to take and on the other hand, a prayer stamp of La Virgen. It was at that moment when, like Candelaria, I told myself, "the time is now!" I realized that if I wanted to get out of the state of depression I was in, I had to be humble and seek help. Little did I know that life was about to teach me a life-changing lesson that moved me to make brave changes.
This past summer, my daughter and I were at the local pizza parlor. She was doing homework, and I was looking for jobs online when I heard a female voice ordering pizza. Her voice sounded so confident. I didn't think much of it at the beginning. I saw her from the back, wearing a beautiful flower-print dress. When she turned to where we were sitting, our eyes immediately locked. It was Candelaria, the once timid, monolingual woman I had interview years back.
We hugged and sat at a table. I couldn't believe it! Candelaria was a different woman—bilingual, assertive, happy, and at peace. She shared with me that she divorced her husband. She now drives a car and works full-time to support her youngest child, who still lives with her.
I have learned to embrace the pace of life and the changes that come with it. Learning that, teaching that, and learning it again are the beginning of every brave change we make.
I grew up hearing the phrase, "God writes straight on crooked lines." At that moment, I finally understood the meaning of the phrase. The life experiences that came after my research allowed me to come closer to a fuller understanding of the power of faith and prayer in the lives of the women I interviewed. At that moment, at the pizza parlor, it was no longer a researcher–interviewee relationship. We were two women who had faced many challenges in life; each of us had lived through a divorce and were making new lives. Candelaria had found peace and happiness in her new life, and I am still in the process of finding mine.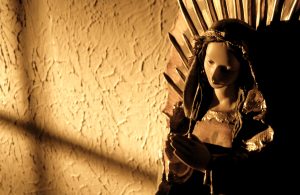 As I go back and re-read my book, I now see that the women who talked with me about their experiences of La Virgen gifted me with a wealth of life lessons that were not only meant to be taught to students in a classroom, but that I could apply to my own life. It turns out that, in the process of researching, scholars learn not only about the subject of inquiry but about our own journeys as human beings. As I continue to discern the new life that awaits me, I have come to understand that research and writing are humbling processes that teach us the true meaning of the saying, "we are all teachers and learners at the same time."
Now in my new life as a single mom and caregiver to my parents, I have learned to embrace the pace of life and the changes that come with it. Learning that, teaching that, and learning it again are the beginning of every brave change we make. So, too, are the stories of faith that shape our sense of divine presence that feed the spiritual imagination it takes to move bravely into the promise of the unknown.