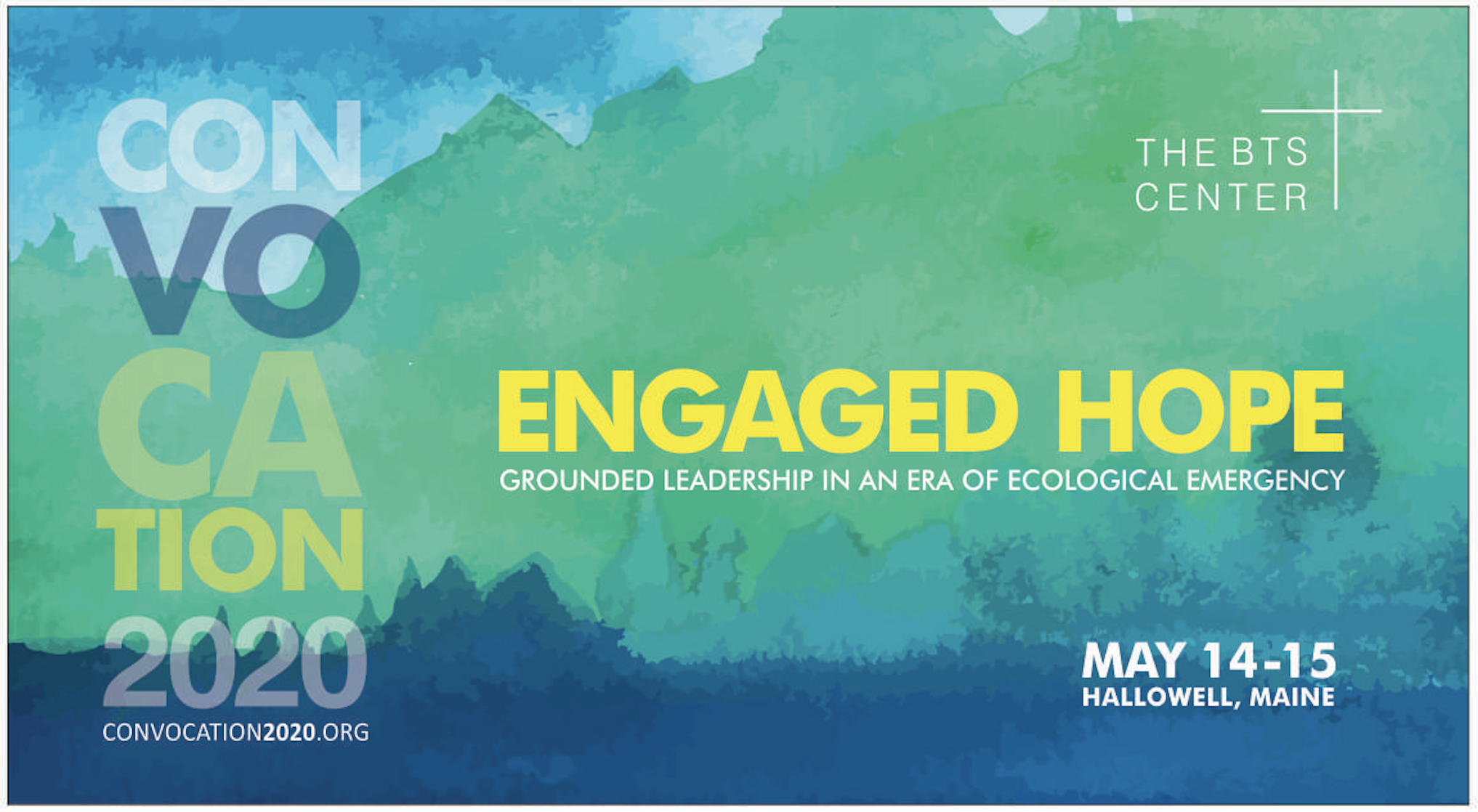 Convocation 2020
Engaged Hope: Grounded Leadership in an Era of Ecological Emergency
This year's Convocation will invite faith leaders and faith communities to be part of a transformative response to the current climate crisis. These times require spiritually grounded leaders who embrace an active, embodied practice of hope — leaders who dismiss the paths of denial and despair and choose to live in a state of engagement. This kind of hope is different from passive optimism — it is a way of being in the world, rooted in faith, expressed in action, and sustained by contemplative practice.
Presenters will confront the flawed values of Western culture that prioritize individualism, consumerism, and unrestrained growth, while calling us to just and sustainable practices that protect the common good and honor the sacredness of our planetary home. The gathering will incorporate worship, music, poetry, and contemplative practices, all designed to lead participants to a deeper, more spiritually grounded engagement with God's Creation.
Click here to learn more about the theme of Convocation 2020.
---
Event Overview and Registration
You are able to attend one or both days. Please click on the registration link for either the specific day you wish to attend or you can register for the entire event.

Thursday, May 14 - 5:30 - 8:30pm
A dinner gathering featuring Indigenous rights activist, spiritual teacher, and transformational change maker Sherri Mitchell.
Friday, May 15 - 8:00am - 4:30pm
Featuring short talks by a panel of eco-innovators, a live recording of the Reports from the Spiritual Frontier podcast, contemplative mini-retreats, and generative small group conversations.
On Thursday afternoon, we will be offering a pre-event Beauty Walk on the grounds of Maple Hill Farm. Led by Renewal in the Wilderness, this will be an opportunity to come together with others, slow down to a pedestrian pace in close proximity with wild nature, and to listen for the refreshing whispers of wilderness wisdom. Registration for this offering will be available in late April. 
---
Convocation 2020 Presenters and Mini-Retreat Leaders

Click here to learn more about our presenters and leaders.
---
Location 

Maple Hill Farm Conference Center 
11 Inn Road, Hallowell ME 04347
We've intentionally chosen Maple Hill Farm Inn and Conference Center because of its beautiful location adjacent to farmlands and forest, and because of its commitment to green practices. Maple Hill was recognized as Maine's first Certified 'Environmental Leader' Lodging Establishment in 2005 and has grown to have solar electricity and hot water, a wind turbine, wood pellet heat, LED lighting, and four electric vehicle charging stations.
---
Lodging
Discounted event lodging available 10 minutes from Maple Hill. Reservations must be received by April 16th and when calling, please reference The BTS Center / Convocation 2020.  
The Senator  
Group rate: Economy $74 / Standard $84 
207-622-5804
The Hampton Inn
Group rate: $109 
207-622-4077
---