Chris Lambourne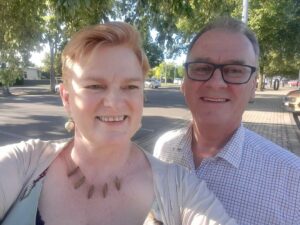 In New Zealand you are often required to give your pepeha.  This is an introduction that talks of your ancestors and place of being (turangawaiwai.) 
Kia ora tatou (Hello to everybody)
Nō Ingarangi ōku tīpuna (My ancestors come from England)
Ko Captain Hobson te waka (They arrived on on the ship called the Captain Hobson)
No te Whanga-nui-a-Tara ahau (I was born in Wellington)
Ko Ruapehu te maunga e rū nei taku ngākau (The mountain that is important to me is Ruapehu)
Ko Thames o Ingarangi te awa (The river of importance to my family is the Thames in England)
Ko Chris toku ingoa (My name is Chris)
Ko Lambourne toku whanau (My family is Lambourne)
Ko tangata Tiriti toku iwi (My tribe is from the Treaty of Waitangi)
E noho ana au ki Heretaunga (I live in Heretaunga/Hawkes Bay)
Tēnā koutou, Tēnā koutou, Tēnā koutou katoa (I welcome all of you.)
My fantastic wife is a Presbyterian minister.  
My boy has left home and now lives in Australia.
One of my sisters only lives a few kilometers away and we have a lot to do with  
My focus is on mission, specifically
Through response to human need in loving service

Through seeking to transform society

Through care for creation
I have been running Manaaki Energy, which comes from our church, and aims at alleviating energy poverty and promoting Maori ownership of energy generation.  We have put 50 roof-top solar systems on houses, and are currently scoping out building 3 x 1MW solar farms.
Saint Andrews is just starting community gardens to produce free food with the aim of connecting the community through the soil. We are setting up an environmental chaplaincy to bring focus to our missions in the area of energy and food and climate and community.
My work background includes developing the digital tv business of NZ's largest broadcaster, through to working for World Bank in sub-Saharan Africa, through to being an engineer for an electricity distribution company. I am just about to start a government job running funding programmes for community distributed energy.