Ben Yosua-Davis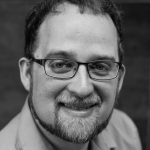 Ben Yosua-Davis serves on The BTS Center staff team as Director of Applied Research. For five seasons, Ben produced and hosted a podcast called "Reports from the Spiritual Frontier" which chronicled the day-to-day lives of leaders innovating new forms of spiritual community. Previously, he lived in Haverhill, MA, where he co-planted a new church called The Vine, one of the earliest mainline missional church expressions, which gathered in homes and coffee shops; hosted Free Markets, game nights, and block parties; and worked as a community partner to make its city a better place to live.
He is also worship leader for the
Two-Year Academy for Spiritual Formation
, a two-year formation process in the foundations of Christian spirituality, which welcomes leading spiritual thinkers from across the ecumenical spectrum.
Ben is a Maine native and now lives on Chebeague Island, Maine with his wife, Melissa, his son Michael, and his daughter, Genevieve; where he directs the community chorus and delivers tins of cookies to unsuspecting neighbors. When not wearing one of his myriad hats or hanging out with his children, you'll probably find him playing Dungeons and Dragons, watching basketball, or renovating his old island farmhouse.
To connect with Ben via email: ben@thebtscenter.org