Artist DeAnne Parks brings scripture and spirituality to visual life through vivid images that enliven religious spaces throughout the Upper Midwest. She shared a selection of her works and insight into her creative process with Bearings. ~Ed.
---
When I begin, I have no plan for the outcome. I create chaos on the canvas, turning it and letting the paint drip. As I add layer upon layer, I hear words, phrases, a line from a Bible verse, poem or song. I jot these down on notecards I  keep on my easel. As I begin to see things in the chaos, I pull them forward or push them back. At some point it begins to feel familiar, as if I copied it from somewhere. I look at the index cards and the story of the piece is there, along with its title.
Sometimes the art is a depiction of a Bible story or psalm.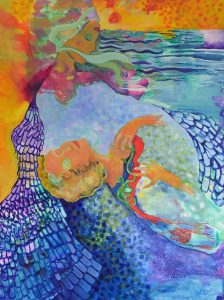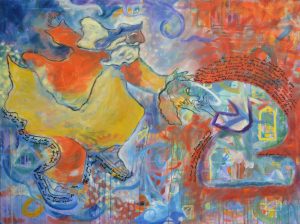 Some works speak to the way our faith informs how we move in the world. There are occasions where I am inspired by actual events, like a woman praising God in the ruins of the National Cathedral in Haiti following an earthquake.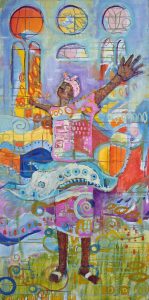 Some of my works point to social justice issues and hope for the world.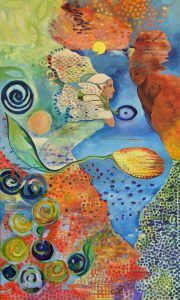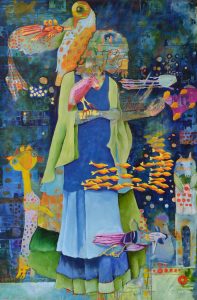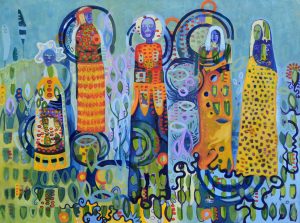 Art can speak into people's lives in a way that words alone cannot achieve. "Tree of Life in the City" was commissioned by Christ on Capitol Hill, which sits across from Minnesota's State Capitol Building. They did not tell me what to paint, but said it was important for me to know the church was founded by immigrants 150 years ago. Today, this diverse congregation's mission is to be a "Tree of Life" in the city of St Paul. Their gift of art to the neighborhood has sparked conversations with neighbors and visitors to the State Capitol Building.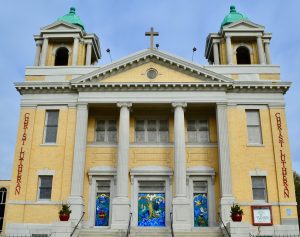 During a residency at The Well in Rosemount, Minnesota, a 12-ft. tall Jesus puppet extended his hands and arms to hug an entire audience. Who would you expect to be moved by this? Yes, kids and teens loved it, but the seniors surprised me. One retired pastor emailed to say, "At first I was unsure, but when Jesus' arms reached around me, I wept."

My hope is that when given the opportunity to engage with art, people will allow their hearts, minds and spirits to be opened so they might hear, see and feel in a new way.