Paul Shupe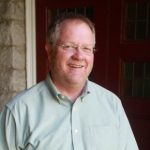 The Rev. Dr. Paul Shupe is a retired minister in the United Church of Christ.  For more than thirty years he led congregations in Maine (Foreside Community Church), Wisconsin (Lake Edge United Church of Christ) and Massachusetts (Hancock United Church of Christ).  His ministry engaged him deeply in equipping lay people for ministry, supervising seminarians in preparation for ministry, and the works of justice and peacemaking including advocacy for LGBTQIA+ persons, environmental justice, and racial justice work.  These passions continue to drive him, and are the core reasons that he now serves on the BTS Center Board.
Having had a long career in which doing mattered a great deal, in retirement he is exploring the mysteries of simply being.
He lives in Portland, Maine, with his wife the artist MaryAnn Shupe.  Together they are the parents of two grown sons, Nate who lives in New Gloucester, Maine, and Sam, in Jamaica Plain, Massachusetts.  He loves walking, biking, reading and all things Red Sox.