Rev. Dr. Allen Ewing-Merrill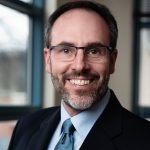 Rev. Dr. Allen Ewing-Merrill joined The BTS Center as Executive Director in July 2019, succeeding Rev. Dr. Robert Grove-Markwood. A Maine native, ordained in the United Methodist tradition, Allen served as the co-pastor (with his wife, The Rev. Sara Ewing-Merrill) of HopeGateWay in Portland from 2007-2019. He is also the founder and former convener of Moral Movement Maine, a network of multifaith leaders and people of conscience that advocates for social justice in the state. For 11 years he served on the Board of Directors of the Maine Council of Churches, as well as six years on the Board of the United Methodist Foundation of New England; presently he serves on the Board of Maine People's Resource Center, the sister organization to Maine People's Alliance.
A graduate of the University of Maine (1992) and of Boston University School of Theology (M.Div. 2000), Allen recently earned a Doctor of Ministry degree through Wesley Theological Seminary in Washington, DC in collaboration with Wesley House, Cambridge UK. He previously served as pastor of First United Methodist Church of Hudson, MA and as founding Executive Director of Hope Acts, a nonprofit focusing on housing asylum seekers and helping immigrants succeed. Before attending seminary, Allen taught high school English at Bangor High School and Searsport District High School, both in Maine.
Allen has extensive experience in advocacy, direct action, and faith-based organizing around issues of social justice, such as immigrant solidarity, fair taxes, and health care justice. In addition, he is deeply engaged in conversations about progressive Christianity, about faithful responses to the climate crisis, and about the future of the church. In 2020, Allen was recognized as a Distinguished Alumnus of Boston University School of Theology.
In regard to his work with The BTS Center, he says, "As we confront the realities of a climate-changed world, the work of faith leaders and people of faith has never been more important. I'm so grateful to serve The BTS Center team in this threshold moment, as faith communities — and the broader society — face a critical inflection point. Inspired by the vision of human hearts renewed, justice established, and creation restored, we are paying particular attention to deep and important questions about global climate crisis and the ways in which that must inform and transform spiritual practice and faith leadership — and of course, how ecological devastation also intersects with other issues of social justice, spirituality, and the practice of faith. As we undertake this work, we are so grateful to be connected with imaginative leaders, spiritual teachers, faith-rooted activists, academics, authors, poets, artists, music-makers, and dreamers. This work to which we are called requires all of us."
Allen and his spouse, Sara, have three daughters, and they live in Portland, Maine.