Pamela Shellberg, Ph.D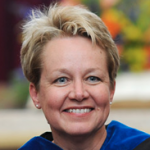 Pam is the scholar-in-residence at The BTS Center, developing educational programs, providing consultations for, and making presentations to faith leaders as they navigate the challenges of twenty-first-century ministries. Her work is biblically grounded, most recently drawing from the book of Acts – specifically the stories of Paul's Damascus road experience and Peter's dream of clean and unclean animals – for guidance and wisdom in leaning into times of profound identity changes, as individuals and as communities of faith.
Pam was the Assistant Professor of New Testament Studies at Bangor Theological Seminary from 2009 until its closure in 2013. She also served as the Visiting Assistant Professor of New Testament at Andover Newton Theological School in 2015-2016. Committed to theological education in all the places it occurs, she has taught in the Maine School of Ministry (UCC) and for the New England Synod's School of Lay Ministry (ELCA). She is author of Cleansed Lepers, Cleansed Hearts: Purity and Healing in Luke-Acts (Fortress 2015).