Alex Shea Will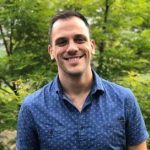 Alex Shea Will is a pastor, teacher, worship consultant, and fledgling rugby player. Through his ministry, Alex attempts to bring the hopeful message of the Church to not only those who have attended church their whole lives, but also to those who wonder if the Church has anything left to offer.
Having discerned a call to ordained ministry by way of a Roman Catholic upbringing, a PCUSA summer camp, Evangelical young adult ministry, a traveling Gospel choir, and UCC campus ministry, Alex is unafraid to push the boundaries of what worship looks and feels like. Alex currently serves as Associate Pastor at South Church in Andover, Massachusetts – a progressive faith community within the United Church of Christ. As part of his general responsibilities, he provides visioning and leadership for adult faith faith formation and small group ministry.
Prior to South Church, Alex served at Hancock United Church of Church, Congregational in Lexington, Massachusetts and as a worship consultant for Newton Highlands Congregational Church in Newton, Massachusetts.
Outside of local church ministry, Alex is actively involved with the wider United Church of Christ, serving as Vice-Moderator of the Northeast Association, and as a founding member of the New Ministries Task Team of the Massachusetts Conference. Alex has also led worship and a variety of workshops for "Super Saturday."
Alex is a native of Pembroke, Massachusetts. He received a Master of Divinity from Andover Newton Theological School and a Bachelor of Arts in Political Science from Catawba College, a UCC affiliated school.