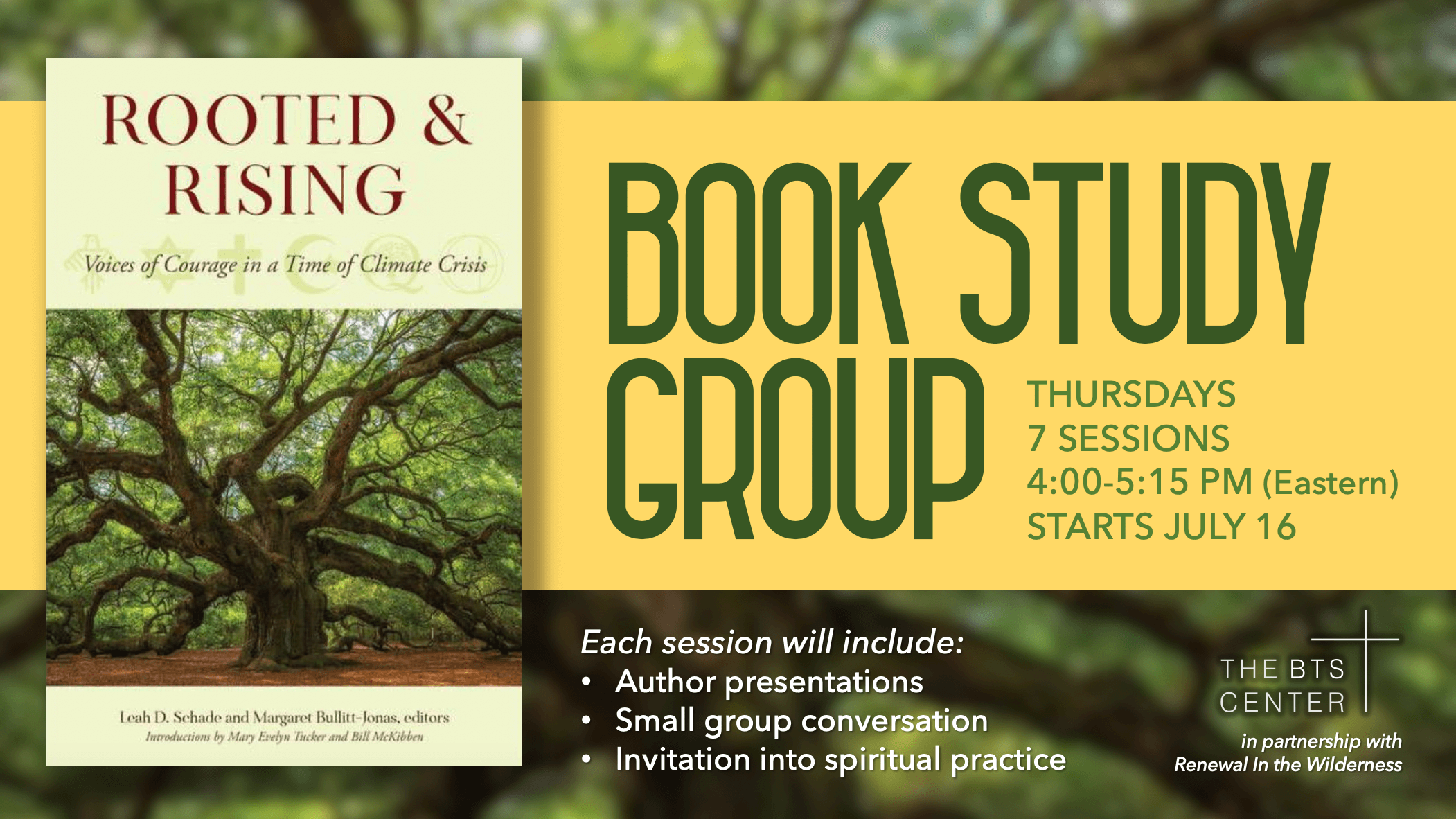 Rooted & Rising: Voices of Courage in a Time of Climate Crisis
Book Study Group 
Thursdays, July 16 – August 27, 2020
4:00-5:15pm (Eastern) • via Zoom
This summer you're invited to join a group of friends and colleagues to read and discuss Rooted & Rising: Voices of Courage in a Time of Climate Crisis. We'll be exploring the seven sections of the book together over the course of seven weekly sessions with each session including a presentation by an author, small group conversation, and an invitation into spiritual practice.
The BTS Center is hosting this book study group in partnership with Renewal in the Wilderness and the group will be co-facilitated by Rev. Nicole Diroff, BTS Center Program Director, and Aram Mitchell, Renewal in the Wilderness Executive Director.
Participating authors include:
---
Book Description
Rooted and Rising is for everyone who worries about the climate crisis and seeks spiritual practices and perspectives to renew their capacity for compassionate, purposeful, and joyful action.

Rev. Dr. Leah Schade and Rev. Dr. Margaret Bullitt-Jonas gather twenty-one faith leaders, scientists, community organizers, theologians, and grassroots climate activists to offer wisdom for fellow pilgrims grappling with the weight of climate change. Acknowledging the unprecedented nature of our predicament—the fact that climate disruption is unraveling the web of life and threatening the end of human civilization—the authors share their stories of grief and hope, fear and faith. Together, the essays, introductory sections, and discussion questions reveal that our present crisis can elicit a depth of wisdom, insight, and motivation with power to guide us toward a more peaceful, just, and Earth-honoring future. 

With a foreword by Mary Evelyn Tucker and a special introduction by Bill McKibben, the book presents an interfaith perspective that welcomes and challenges readers of all backgrounds.
Click here to buy the book on Amazon.
Or order the book directly from your favorite local bookstore.