Erica Williams Simon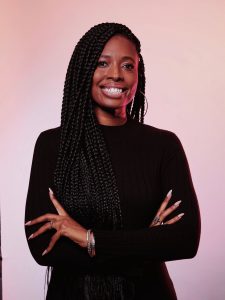 Erica Williams Simon is an award-winning writer, host, educator and entrepreneur. As the founder and former Head of Snapchat's Creator's Lab, her work is focused on creating conversations that help a diverse, digital native generation uncover wisdom and tell new stories about "who we are and how we want to live". Simon's work incorporates elements of her multi-industry career at the highest levels of media, social impact, tech and religion to develop innovative, transformative programming for people and brands looking to change the world.
She is now the CEO of Sage House, a content and experience company that creates spaces both online and off for compelling conversations, critical questions and shared storytelling. She is also cohost and co-creator of the Rosario Dawson produced talk show The Assembly and is also the host of the popular podcast The Call with Erica.
Previously, Simon worked as the founding Creative Director of Upworthy.com and as a columnist for TIME.com. Before moving to a career in media, she spent nearly a decade in Washington D.C. power circle's at the nation's premier progressive think tank, Center for American Progress, and the country's oldest civil and human rights coalition, the Leadership Conference on Civil and Human Rights, developing innovative Millennial engagement programs on key social issues.  She has advised on projects with diverse partners ranging from the White House and Rock the Vote to Fortune 500 companies. For her social impact work, Simon was named one of Politico's Top 50 Politicos to Watch, an NAACP's 40 under 40, a world Economic Forum Global Shaper, and an Aspen Institute Ideas Fellow.
Her first book, You Deserve the Truth, was published by Simon & Schuster in  May 2019 and puts the power of story back into the hands of the people, exploring how to engage with the dominant cultural narratives of our time to build an authentic life worth living.
Simon received the O magazine Women Rule Leadership Award and has appeared as a guest and commentator on media outlets including CNN, HBO, MTV, PBS, BET, and more. Her work has also been featured in Harvard Business Review, The Washington Post, Huffington Post, and ESSENCE magazine. Simon, a self-proclaimed "armchair theologian" and preacher's daughter for life, resides in Los Angeles with her high school sweetheart husband and is on the board of ColorofChange.org and NPR's Generation Listen.