Bronwen Mayer Henry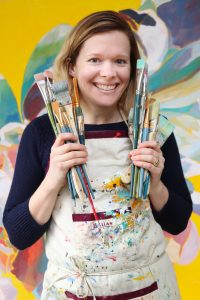 Bronwen Mayer Henry is a self-taught contemporary painter specializing in trees and flowers on large scale canvases with acrylic paints. Her work is filled with movement, light, color, and a sense of freedom.  
It was an unexpected path through Thyroid Cancer that led Bronwen to commit time to painting. This beginning continues to be reflected in her large scale work and playful approach to color. Her art is an expression of prayer, meditation, hope and joy. She describes herself as "a person facing her fears with a brush, and choosing joy over perfection." She leads workshops and retreats helping others to break through creative barriers. She has a new book exploring how this cancer treatment lit up her creative practice, "Radioactive Painting" published by Shanti Arts LLC. 
Her work has been on display at Abington Art Center, Pendle Hill Retreat, Local Shops, and private collections in California, Colorado, Georgia, Mississippi, New Hampshire, New Jersey, Maine, New York, North Carolina, Ohio, Pennsylvania, Washington DC, Washington State, Canada and South Africa.
She lives outside Philadelphia, PA with her husband, two children, and King Charles Cavalier Spaniel.
www.facebook.com/bronwenmayerhenry 
www.instagram.com/bronwenmayerhenry