Wendy Laidlaw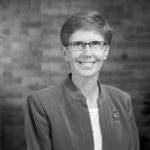 Wendy is a wife and life partner, stepmother, grandmother, aunt, daughter, sister, professional, executive, friend, advisor, animal-lover, and volunteer. Wendy and her husband, Mike, have been married for more than 31 years and have two sons and eight grandchildren living in North Carolina, Georgia, and Indiana. Wendy is a Presbyterian minister's wife and daughter and was born in Michigan. Over the past 22 years Wendy has worked at R. M. Davis and currently holds positions as principal, Chief Operating Officer, and portfolio manager. R. M. Davis is a private wealth management company headquartered in Portland, Maine. In Wendy's early career she worked on Capitol Hill, at The Pentagon, and for the City of Raleigh, NC. Additionally, Wendy worked for a non-profit in Portland, Maine that provides training and employment services to the unemployed in Cumberland County Maine.
Wendy's formal education includes a BS in Accounting, a Master of Business Administration, and she is a Certified Financial Planner ™.
Wendy and her husband spend part of each winter in Savannah, Georgia. They enjoy walking, travel, reading, classical and jazz music, history, and are devoted to their two Cardigan Welsh Corgis. Wendy has also served as the past Chair of The BTS Center Board of Trustees.